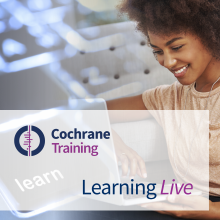 Cochrane was founded in 1993 and has grown into a global network producing gold standard evidence syntheses. Over those years we've been doing things in the same way and during that time the field has evolved. To maintain our place as one of the world's leaders in producing trusted evidence, we are making some big changes in 2023.
Reviews will be shorter. Users of evidence are best served by a more focused article, which also makes writing and updating them simpler. The main body of the review will contain sections that are most useful to users of Cochrane evidence, with a clearer distinction between the main article and supplementary materials.
With a shorter review we are moving the structure to where it's needed most: the data. This change is powered by moving to study centric data in RevMan. By improving the structure of data associated with Cochrane reviews, we can increase their impact by making it easier for policy makers, guideline developers and others to reuse our evidence.
In this Cochrane Learning Live webinar, Ella Flemyng (Interim Head of Editorial Policy and Research Integrity) and Gert van Valkenhoef (Head of IT Infrastructure and Development) will discuss the benefits of these developments and what guidance and support is available. The session is aimed at everyone involved in authoring, editing or using Cochrane reviews and Cochrane evidence. 
---
Presenter Bios
Ella Flemyng is Interim Head of Editorial Policy and Research Integrity in Cochrane. She leads work to define and deliver on policies and standards so Cochrane evidence continues to be trusted and valued. This includes delivering change to the format of Cochrane reviews and data to make them more streamlined to produce and easier to use. Ella worked in open access STEM publishing before joining Cochrane in 2019. Follow her at @EllaFlemyng
Gert van Valkenhoef is Head of IT Infrastructure and Development in Cochrane. He completed a PhD and several years of post-doc research on the intersection of evidence based medicine and software prior to joining Cochrane in 2016. He leads software development and architecture for Cochrane and has a particular interest in streamlining data flows between tools.
---
Sign up
Please note: The session will be held twice to cover global timezones. Therefore, it's only necessary to register for one session.
Tuesday, 3 October 2023, 06:00 UTC [check the time in your timezone] SIGN UP HERE
Wednesday, 4 October 2023, 14:00 UTC [check the time in your timezone] SIGN UP HERE
 
You will need a Cochrane Account to register for this webinar. If you don't have a Cochrane Account you will be able to register for free on the following page. You will be able to use this account for all future activity. A brief guidance on how to sign up using your Cochrane Account is available here and if you have any problems, please contact support@cochrane.org