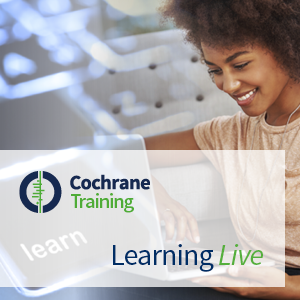 This webinar, hosted by Cochrane's Learning and Support Department, is an opportunity to find out about Cochrane's new online, introductory course on how to conduct a systematic review of interventions: Cochrane Interactive Learning.
This webinar will include a brief presentation about the development of the modules, a demonstration of the learning available and how they function, as well as an opportunity to ask any questions you have about how they might support you in your role at Cochrane.
The course's nine modules are a comprehensive introduction to new authors, or a refresher and update for experienced authors and editors, and cover framing a review, searching for studies, risk of bias assessment based on the new Cochrane Risk of Bias 2.0 tool, meta-analysis, GRADE and Summary of Findings tables, integrating economic evidence, drawing conclusions and reporting the review.
The modules provide clear explanations with stimulating interactions, quizzes, animations, examples and reference resources, and enables authors to tailor their learning experience and complete assessments to demonstrate their learning.
Sign up
Wednesday 4th October 1.00 UTC [check the time in your time zone] SIGN UP HERE
Wednesday 4th October 8.00 UTC [check the time in your time zone] SIGN UP HERE
Wednesday 4th October 13.00 UTC [check the time in your time zone] SIGN UP HERE  
Wednesday 5th October 18.00 UTC [check the time in your time zone] SIGN UP HERE