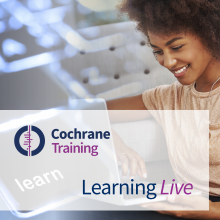 Cochrane's new Conflict of Interest policy will come into effect on the 1st of October, 2020. This session will provide an overview of the key changes to the policy, how it will be rolled out, plus a review of the activities and resources planned to assist Cochrane Review Groups in the implementation of the new policy.
The session will be aimed at anyone with an interest in Cochrane's approach to conflict of interest, including CRG editorial teams, editors and authors.
Presenter Bios
Ruth Foxlee: Ruth has worked with Cochrane's Funding Arbiters since 2015. She was a member of the COI Policy revision team (2018-19) and is project lead on the COI Policy Implementation Project.
Graham Smith: Graham is the project manager on the COI Policy Implementation Project and also contributed significantly to the COI Policy revision process (2018-19).
Karla Soares-Weiser, Editor in Chief, Editorial & Methods Department: Karla is project sponsor on the COI Policy Implementation Project.
---
Sign up
Wednesday, 10th June 2020 14:00 UTC [check the time in your time zone] SIGN UP HERE
You will need a Cochrane Account to sign up for this webinar. If you don't have a Cochrane Account you will be able to register for free on the following page. You will be able to use this account for all future activity. A brief guidance on how to sign up using your Cochrane Account is available here and if you have any problems, please contact support@cochrane.org