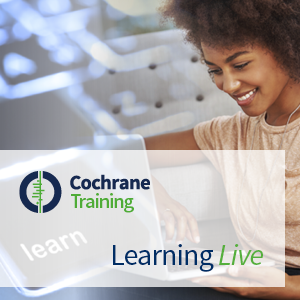 This webinar will tell people more about the ACTIVE project.
ACTIVE stands for Authors and Consumers Together Impacting on eVidencE.   The project is bringing together evidence, information and resources about the active involvement of consumers in systematic reviews to create learning resources to help review authors involve consumers within systematic reviews.
This Cochrane Learning Live webinar will be presented by Dr Alex Pollock and Dr Pauline Campbell, who are both based at the Nursing, Midwifery and Allied Health Professionals Research Unit, Glasgow Caledonian University in the UK.  

The webinar will provide a series of brief presentations, each followed by questions, answers and discussion.  Presentations will include the aims and key findings of the ACTIVE project, examples of active involvement in reviews, and proposed learning resources. There will be a focus on practical components of how people were involved.
The session will be of interest to all people across the Cochrane Community who would like to know more about how consumers have been actively involved in reviews, and who would like to discuss and consider how Cochrane can learn from this. 
Sign up
Wednesday 12 October 8.00 UTC [check the time in your timezone] - SIGN UP HERE