This webinar is aimed at anyone who is interested in learning with Cochrane. Whether you are a systematic review author, an editor, a trainer, or a consumer – this session will have lots of interesting stuff to discover about Cochrane's new and upcoming learning opportunities!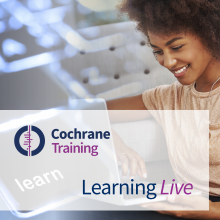 The session will begin with a walk through of the new online resources and collections that have been created in recent months on the Cochrane Training website, and how you can use our resources to find the learning that you need, be that online or at face to face events.
We will then present exciting new plans for Cochrane's learners in 2019, including a programme of support for Cochrane Trainers, a series of new online learning modules, and personalized learning profiles for our users.
At the end of the session, there will be opportunity for attendees to discuss how Cochrane Membership, Learning and Support Services can support your learning and training activities in the upcoming months and years.
This webinar will be held on two separate times to cover global timezones. Please see below for details.
Presenter bios:
Chris Champion, Head of Membership, Learning and Support Services
Chris Watts, Learning and Support Manager, Membership, Learning and Support Services
Dario Sambunjak, Learning Content Officer, Membership, Learning and Support Services
Sign up
Wednesday, 13th March 2019 09:00 UTC [check the time in your time zone] SIGN UP HERE
Wednesday, 13th March 2019 14:00 UTC [check the time in your time zone] SIGN UP HERE
You will need a Cochrane Account to sign up for this webinar. If you don't have a Cochrane Account you will be able to register for free on the following page. You will be able to use this account for all future activity. A brief guidance on how to sign up using your Cochrane Account is available here and if you have any problems, please contact training@cochrane.org