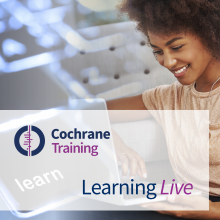 This sixth webinar of the Qualitative Evidence Synthesis (QES) & Learning Live series will introduce attendees to one of the longest standing methods for QES, Meta-ethnography. Meta-ethnography was developed in the late 1980s specifically for the purpose of synthesising qualitative research.
Using worked examples, the webinar will cover the purpose and processes associated with the Meta-ethnographic approach to QES, as developed by its original authors Noblit and Hare. Detail will be given of the types of questions a Meta-ethnography can answer and decision making about when to adopt it as an approach. Finally, the webinar will examine the use of the reporting guideline eMERGe, specifically developed for the reporting of Meta-ethnographies.
---
Presenter Bio
Professor Kate Flemming is a highly experienced academic, internationally known for her leading research and service innovation in palliative care nursing. Since October 2019 she has held a Chair in Hospice practice and Evidence Synthesis in the Department of Health Sciences, University of York. Kate is a co-convenor of the Cochrane Qualitative and Implementation Methods Group and has published over 65 peer-reviewed publications in high-impact journals. Kate's research programme focuses on complex interventions including patient and carer experience of palliative care across different service models, disease types and morbidities. This work is closely integrated with her methodological expertise in qualitative evidence synthesis.
---
Sign up
Thursday, 17 March 14:00 UTC [Check the time in your time zone] SIGN UP HERE
You will need a Cochrane Account to register for this webinar. If you don't have a Cochrane Account you will be able to register for **free** on the sign up page. You will be able to use this account for all future activity. A brief guidance on how to sign up using your Cochrane Account is available here and if you have any problems, please contact training@cochrane.org