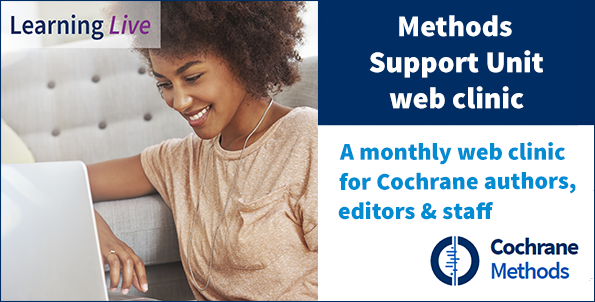 In this Methods Support Unit web clinic, Rachel Richardson will discuss both examples of good practice and examples of commonly encountered problems in the use of the Risk of Bias 2 tool.
The session will include a 30 minute presentation and allow time for questions on the presentation topic, and for pre-submitted questions on any other aspect of Cochrane methods. It is aimed at Cochrane authors, editors and staff. 

 
---
Presenter Bio
Rachel Richardson, Methods Support Unit Manager, Cochrane - Rachel originally trained and worked as a general manager in the UK National Health Service, and has subsequently worked in health services research for many years. She has experience in various fields including knowledge translation, trial management and systematic reviewing. Her Cochrane experience includes working as an editor and author for the Common Mental Disorders and Wounds groups, and as Network Support Fellow for the Abdomen and Endocrine Network. She currently works as the Methods Support Unit Manager in Cochrane's Central Executive Team, advising on Cochrane methods.
---
Sign up
Thursday, 9 February 2023, 09:00 UTC [Check the time in your time zone] SIGN UP HERE
You will need a Cochrane Account to register for this webinar. If you don't have a Cochrane Account you will be able to register for free on the following page. You will be able to use this account for all future activity. A brief guidance on how to sign up using your Cochrane Account is available here and if you have any problems, please contact support@cochrane.org