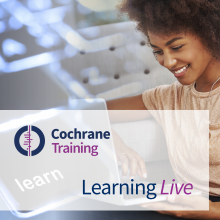 This is the first of two related webinars aimed at review authors and editors, about improving transparent reporting of synthesis without meta-analysis of effect sizes (Webinar 2: Reporting guidelines for synthesis without meta-analysis). In this webinar, we will provide an overview of current use of, and reasons for using, narrative approaches to synthesis. We will describe use of the term "narrative synthesis", and common issues in narrative synthesis, this will include transparency in reporting, and ambiguity about narrative synthesis as a method. An overview of how transparency can be improved will be provided, and we will finish by introducing the Synthesis Without Meta-analysis (SWiM) reporting guideline, which will be the focus of the second webinar. There will be an opportunity to ask questions and the webinar will be recorded. The work presented is from the ICONS-Quant (Improving the Conduct and reporting of Narrative Synthesis of Quantitative data) project which is funded by the Cochrane Strategic Methods Fund (May 2017-May 2019).
The webinar will last around 60 minutes, and will be presented in four short sections: introduction to the use and definition of narrative synthesis, reasons for using narrative synthesis, common issues in narrative synthesis, and improving transparency in synthesis without meta-analysis. Throughout the webinar there will be polling to help participants learn and ensure the audience is following the content. There will be opportunities for the audience to ask questions at the end of each section.
Presenter Bios
Dr Hilary Thomson, co-ordinating editor of Cochrane Public Health, Senior Research Fellow, University of Glasgow. Hilary Thomson has extensive experience in conducting large complex reviews of questions about the health impacts of social policy interventions such as housing, transport, and welfare. Her work focusses on ways to improve the reliability and utility of systematic reviews that address public health policy relevant questions.
Mhairi Campbell, Systematic Reviewer, University of Glasgow. Mhairi Campbell has broad experience of conducting complex systematic reviews, including: qualitative evidence of policy interventions, review of theories linking income and health, and research investigating the reporting of narrative synthesis methods of quantitative data in public health systematic reviews.
---
Sign up
Tuesday, 4th February 2020 11:00 UTC [check the time in your time zone] SIGN UP HERE
You will need a Cochrane Account to sign up for this webinar. If you don't have a Cochrane Account you will be able to register for free on the following page. You will be able to use this account for all future activity. A brief guidance on how to sign up using your Cochrane Account is available here and if you have any problems, please contact training@cochrane.org