This is the first webinar in our NMA Learning Live Webinar series covering the development of a 'PICO' question, assumptions & how they impact on analysis.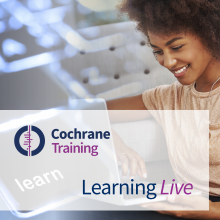 The webinar is a 'how to' session with worked examples and is intended for people who are interested in undertaking a network meta-analysis, or who are actively developing a protocol for a review that intends to conduct this analysis type. In addition to review author teams, CRG editors and methodologists will also be able to learn about the importance of getting the question and methods right when planning an NMA.
Presenter Bios
Anna Chaimani is a Senior Research Fellow at the Research Centre of Epidemiology and Statistics, Paris Descartes University. She is also a co-convenor of the Cochrane Statistical Methods Group and of the Cochrane Comparing Multiple Interventions Methods Group. She has worked on several topics in network meta-analysis such as small-study effects, software development, presentation and reporting of results, missing outcome data.
Dr. Tianjing Li is an Associate Professor with tenure in the Department of Ophthalmology at University of Colorado Denver, USA. The primary goal of Dr. Li's research is to develop, evaluate, and disseminate efficient methods for comparing healthcare interventions and to provide trust-worthy evidence for decision-making. Dr. Li has worked with Cochrane in various capacities for 15 years. She served as the Associate Director for Cochrane United States from 2012 to the Center's closure in 2018. Currently, in addition to her new role as a Coordinating Editor for Cochrane Eyes and Vision, she co-convenes the Cochrane Comparing Multiple Interventions Methods Group. She is an Associate Scientific Editor for the upcoming 2nd edition of the Cochrane Handbook for Systematic Reviews of Interventions. Outside of Cochrane, Dr. Li serves as a Co-Editor-in-Chief for the journal Trials and the Reviews Editor for JAMA Ophthalmology. She is an elected member of the Society for Research Synthesis Methodology and was awarded the Society's inaugural Early Career Award in 2016.
---
Sign up
Monday, 18th November 2019 16:00 UTC [check the time in your time zone] SIGN UP HERE
You will need a Cochrane Account to sign up for this webinar. If you don't have a Cochrane Account you will be able to register for free on the following page. You will be able to use this account for all future activity. A brief guidance on how to sign up using your Cochrane Account is available here and if you have any problems, please contact training@cochrane.org