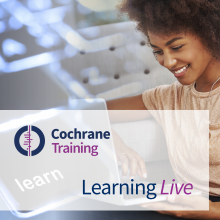 For most up to date guidance on using this software, go to the RevMan Web Knowledge base.
These videos, originally part of a webinar specifically for editorial staff, look at the final version of RevMan 5 which is due to be released at the end of April 2020. The presenters also take a look at the latest developments in RevMan Web. Finally, there's also an opportunity to find out more about how we can support you in supporting your author teams in using both versions of RevMan.
These videos will be of interest to editorial staff, including Managing Editors, Assistant Managing Editors, Editorial Assistants and any team member who regularly uses RevMan and/or supports authors in doing so.
The webinar was delivered in April 2020. Below you will find the videos from the webinar, together with accompanying slides to download [PDF].
Need support in using RevMan for a Cochrane review? Join our community Slack channel to ask questions and join clinics on this: #all-support-revman [find out how to join community Slack here]
Part 1: RevMan 5.4
Part 2: RevMan Web: Top Tips and FAQs
Part 3: RevMan Web: tools for editing
Part 4: RevMan Web: My experience
Part 5: RevMan Web: Ongoing & future development
---
Presenters
Anupa Shah & Sally Bell-Syer, ME Support
Ursula Gonthier, Cochrane Support Team
Teo Quay, Anaesthesia & Emergency and Critical Care
Rebecka Hall, RevMan Web Product Owner