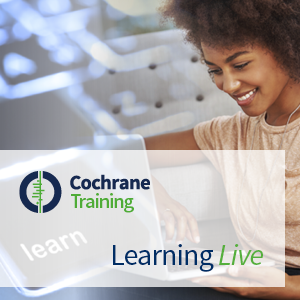 The revised tool for assessing risk of bias in randomized trials (RoB 2.0) builds on the established Cochrane risk-of-bias tool first released through the Cochrane Handbook for Systematic Reviews of Interventions in 2008 and updated in 2011. The development team have reacted to feedback and evaluations of the original tool and made several amendments and improvements.
This webinar will cover the following features of RoB 2.0:
simplification of issues into fewer (mandatory) bias domains;
clearer focus on risk of bias in a particular result from a randomized trial;
introduction of signalling questions - which are reasonably factual in nature - to facilitate risk-of-bias judgements;
clarification of differences between the review team's interest in focussing on the effect of assignment to intervention (the intention-to-treat effect) versus the effect of starting and adhering to intervention: issues of blinding, implementation and adherence differ importantly between these;
clarification that selective reporting should be assessed only when a result is available (whereas selective non-reporting should be assessed at the meta-level);
separate templates for parallel group trials, cluster-randomized trials and cross-over trials. 
This webinar, which is part of the Cochrane Learning Live series, is presented by Dr Matthew Page. Matthew is postdoctoral research fellow based at the University of Bristol, UK. He has expertise in systematic review methodology and bias in biomedical and public health research. From 2007-2015 he worked at Cochrane Australia, where he contributed to the training program for Cochrane review authors.
The webinar will be of interest to both new and experienced authors and editors, and will consist of 40 minute presentation with questions, followed by 20 minute Q&A session.
Sign up
Wednesday 7th December 14.00 UTC [check the time in your time zone] - SIGN UP HERE