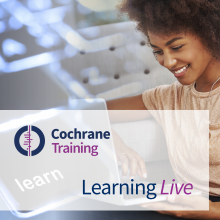 In this webinar we will introduce the TRANSFER Approach for assessing the transferability of systematic review findings. The TRANSFER Approach is a novel approach for supporting collaboration between review authors and stakeholders from the beginning of the review process to systematically and transparently consider factors that may influence the transferability of systematic review findings.
The first part of the presentation will cover how the TRANSFER Approach was developed. Next, a case study will be presented to illustrate how the TRANSFER Approach works in practice. A brief question and answer period will follow the presentation.
This webinar is intended for beginner or experienced review authors and/or decision makers who regularly commission systematic reviews.
Presenter Bio
Heather Munthe-Kaas is a researcher at the Norwegian Institute of Public Health. She has experience conducting reviews on the effect of social welfare and public health interventions, and through this work has engaged closely with decision makers. She is one of the co-founders, and co-convenors of the GRADE-CERQual working group.
---
Sign up
Wednesday, 5th August 2020 12:00 UTC [check the time in your time zone] SIGN UP HERE
You will need a Cochrane Account to sign up for this webinar. If you don't have a Cochrane Account you will be able to register for free on the following page. You will be able to use this account for all future activity. A brief guidance on how to sign up using your Cochrane Account is available here and if you have any problems, please contact support@cochrane.org