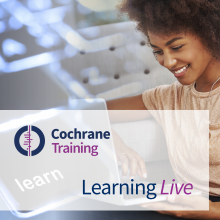 Covidence is the primary screening and data extraction tool for Cochrane authors. In this webinar, an overview of Covidence will be provided for anyone who's new to the platform, followed by a walkthrough of two main feature sets. The organisation administrative panel facilitates oversight from Group editorial staff, and the new Extraction 2.0 offers a far more flexible way to complete risk of bias assessments and data extraction, hugely improving Covidence's ability to handle non-intervention reviews.
The overview will take up about 45 minutes, with 15 minutes reserved for discussion. The session will be held twice to cover global timezones.
Presenter Bios
Anneliese Arno has been working with Covidence since 2015, when it was added to the Cochrane Toolkit as the recommended review production tool. In addition to her work with Covidence, she is in the final year of her PhD at University College London researching the adoption of automation in health evidence synthesis.
---
Sign up
Monday, 5th October 2020 21:00 UTC [check the time in your time zone] SIGN UP HERE 
Tuesday, 6th October 2020 10:00 UTC [check the time in your time zone] SIGN UP HERE 
You will need a Cochrane Account to sign up for this webinar. If you don't have a Cochrane Account you will be able to register for free on the following page. You will be able to use this account for all future activity. A brief guidance on how to sign up using your Cochrane Account is available here and if you have any problems, please contact training@cochrane.org