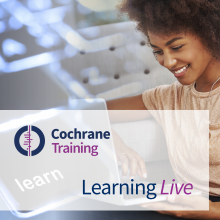 In this webinar, Dario Sambunjak and Chris Watts from the Learning Team in Cochrane's People Services Department will share their experiences of organising and running webinars and virtual workshops.
For the past four years Dario and Chris have run the successful Cochrane Learning Live webinar programme and, more recently, a series of virtual workshops. This session will be based on their experience to date and will be of particular interest to anyone in Cochrane involved in organising live online learning (and presenters too).
In this webinar, you'll learn what's involved in organising a live online learning event, get tips and tricks on sound planning, and hear good practice on how to make your live online learning as good as it can be for your learners and presenters.
The webinar will cover:-
How Cochrane's Learning Team can help you
The advantages and disadvantages of different types of online learning
How to choose the best format for your live online learning
The tools of the job: using different platforms (such as GoToWebinar and Zoom)
A checklist guide to preparing for your live online learning session
On the day: good practice for running your session
Evaluating and sharing your session
---
Sign up
Tuesday, 7th July 2020 14:00 UTC [check the time in your time zone] SIGN UP HERE
You will need a Cochrane Account to sign up for this webinar. If you don't have a Cochrane Account you will be able to register for free on the following page. You will be able to use this account for all future activity. A brief guidance on how to sign up using your Cochrane Account is available here and if you have any problems, please contact support@cochrane.org