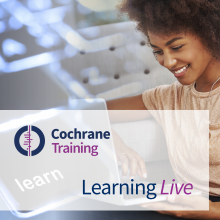 Cochrane's new Conflict of Interest Policy comes into effect on the 14th October, 2020. These videos, orginially part of a webinar, give an overview of the key changes to the policy, how it will be rolled out, plus a review of the activities and resources planned to assist groups in the implementation of the new policy. The session was aimed at CRG editorial team members and Cochrane authors, but it was also open to people in the wider Cochrane community who have an interest in Cochrane's approach to managing conflicts of interest. 
The webinar was delivered in March 2020 and below you will find the videos from the webinar. We have also included a document that answers questions that were not covered during the webinar [PDF] and the presentation slides to download [PDF].
Part 1: About the new policy
Part 2: Implementing and supporting the new policy 
Part 3: Q&A
---
Presenter Bios
Ruth Foxlee has worked with Cochrane's Funding Arbiters since 2015. She was a member of the COI Policy revision team (2018-19) and is project lead on the COI Policy Implementation Project. 
Graham Smith has worked as the project manager for the revision and implementation of Cochrane's Conflict of Interest policy.
Karla Soares-Weiser, Editor in Chief, Editorial & Methods Department: Karla is project sponsor on the COI Policy Implementation Project.
Fergus Macbeth, Coordinating Editor of the Cochrane Lung Cancer review group
Lisa Bero, Senior Editor of the Cochrane Public Health and Health Systems review group