About this module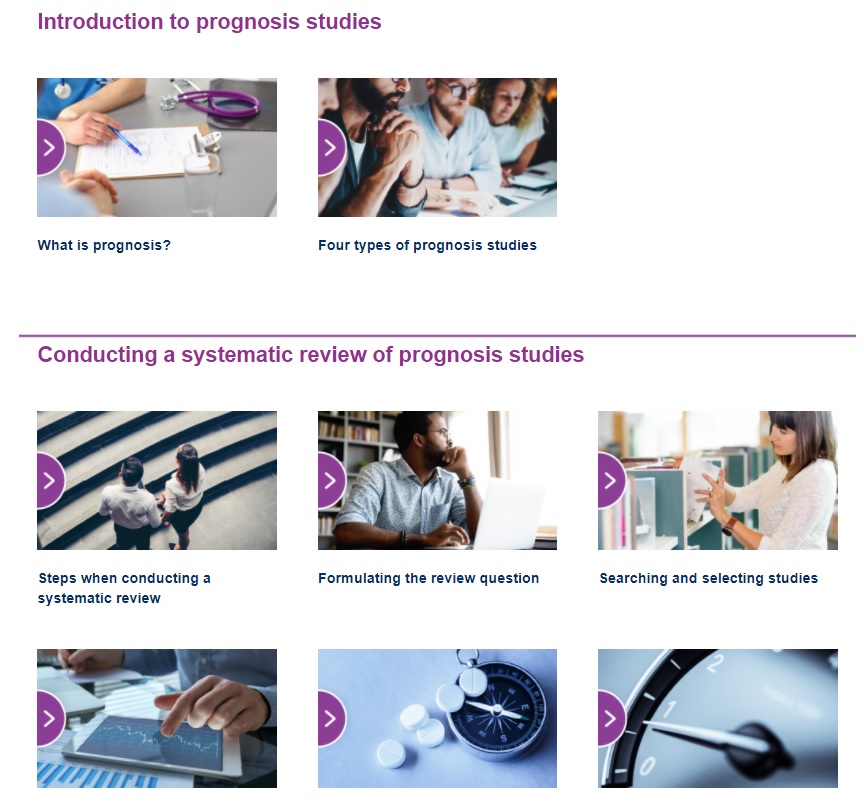 This module has been designed to introduce people to systematic reviews of prognosis studies. The module is intended for researchers and clinicians with an interest in reading a systematic review of prognosis studies or as an introductory course for researchers planning to perform a systematic review of prognosis studies. Additional courses are necessary to be fully able to perform a systematic review of prognosis studies.
You will need a Cochrane Account to access this module. If you don't have a Cochrane Account you will be able to register for **free** on the following page. You will be able to use this account for all future activity. If you have any problems, please contact support@cochrane.org

What you can expect to learn (learning outcomes)
This module will teach you:
what prognosis is, why we prognosticate, what the difference is with diagnosis and where SRs of prognosis studies can help;
what the differences between types of prognosis studies are. To judge to which category a review belongs (but only for clear examples) and to evaluate whether a title has an adequate format;
to know that extra elements in PICO are timing and setting;
to create a PICOTS that contains all essential elements;
to be familiar with the existence of search filters, and their advantages and disadvantages. To understand that searching and selection of studies is different from searching intervention studies and that it can be more difficult;
to know that there are tools available that give guidance on which elements are relevant for data extraction. To understand the differences with data extraction of intervention studies;
to know which tools are available for risk of bias assessment for every type of prognosis studies and where the major differences are with risk of bias tools for intervention studies;
to understand which measures of association and which performance measures are relevant to prognosis and how these can be interpreted;
to know that formal adaptation of GRADE for prognosis are under development;
to know that templates are available that need to be used for all future prognosis reviews.
---
Authors and contributors
This module has been written and compiled by: Anneke Damen, Lotty Hooft and Carl Moons (Cochrane Netherlands, University Medical Center Utrecht, Utrecht University, Utrecht, The Netherlands), with the support of Dario Sambunjak and Chris Watts from Cochrane's People Services Department and Kiln Design Ltd.
---
Staying up to date
This module was last updated in March 2021. The next planned review date is Quarter 2, 2022.
We're pleased to hear your thoughts. If you have any questions, comments or feedback about the content of this module, please contact us.