Dissemination Essentials: The Checklist
Dissemination products can be quite different when it comes to quality and effect. However, there are several common characteristics that you will find in high quality dissemination products. We have put these into a short checklist for you to use when creating your own dissemination products for your local context and language. The checklist will help you  improve the communication of your findings to non-experts (i.e. people who are not familiar with systematic review methodology). The result? Your dissemination product will get information to the people who need it, when they need it, in a way they can understand and use it.
---
This checklist is first and foremost for people creating dissemination products that present review findings. If you are building awareness about a review without presenting the finding, you might find some helpful tips here as well.
You can use this guidance when you:
Plan the dissemination of a Cochrane review
 
Create a dissemination product
 
Create or improve a dissemination product template
There are three layers to the checklist and guidance:
A one-page overview of the checklist - we recommend that you use this level only when you are familiar with the guidance that accompanies the checklist.
 
The checklist with details - A brief description of what each checklist item means and a set of minimum expectations.
 
Full guidance, with examples and references - this layer includes the information you need to fully apply each checklist item.
Download the full checklist and guidance, which includes all three layers mentioned above.
You can also open the one-page checklist as a printable version.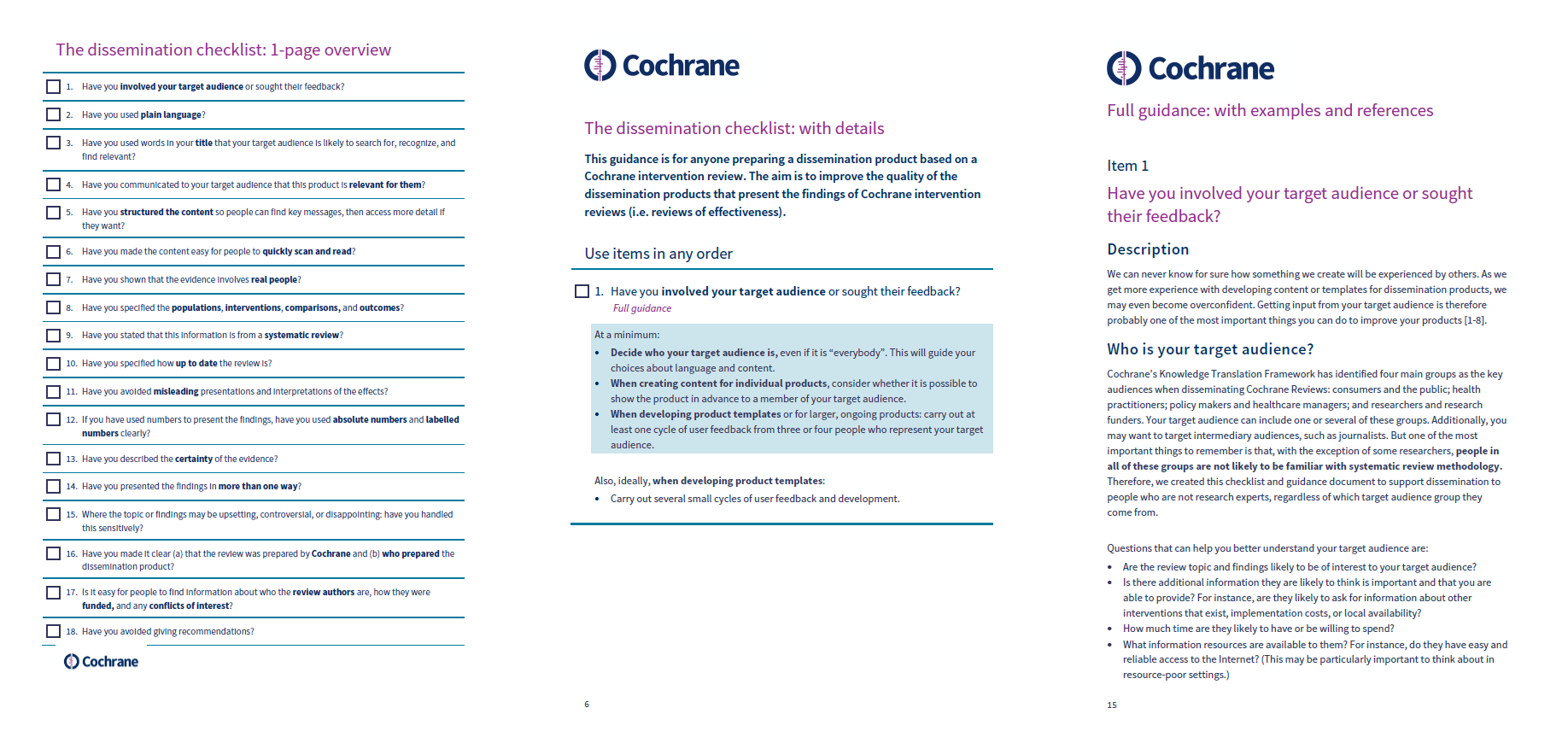 ---
Resources to support your use of the checklist
Watch our webinar on how to improve your dissemination products and share Cochrane evidence more effectively with the Dissemination Checklist! This webinar covers:
Brief review of the checklist items

How the checklist can be used in practice

Where to find further support and resources to improve dissemination products
Click here to listen to the webinar recording in Russian.
Click here for an abbreviated version of the checklist and guidance translated into Polish.
Watch a series of screencasts recorded by the Dissemination Checklist authors:
Training materials from an online course 'Dissemination Essentials', delivered between April and November 2021), are available here.
---
Choosing images for sharing evidence: a guide
This guide is for anyone who needs to choose images for a dissemination product based on any Cochrane Review. It is based on, and consistent with, Cochrane's Dissemination Checklist above, and can be used side-by-side. Download the guide here, and learn how it was created here.