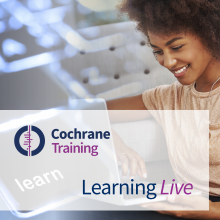 These videos, originally part of the NMA Learning Live Webinar series, discuss one of the methods available on rating the certainty of evidence from NMAs. The CINeMA framework is presented and the web application cinema.ispm.unibe.ch is demonstrated through an example. (http://www.nihrcrsu.org/guidance/apps/). 
The videos are intended for people who are interested in undertaking a systematic review that includes a network meta-analysis, or who are actively developing a protocol for a review or working on a review that intends to conduct this analysis type. In addition to review author teams, CRG editors and methodologists will also be able to learn about rating confidence in evidence using CINeMA.
The webinar was delivered in January 2020 and below you will find the videos from the webinar, together with accompanying slides to download [PDF].
Part 1: Introduction to CINeMA framework 
Part 2: Within-study bias, indirectness 
Part 3: Imprecison, heterogeneity/incoherence, reporting bias 
Part 4: Upcoming developments of CINeMA app, questions and answers
---
Presenter Bios
Georgia Salanti is an associate professor in Biostatistics and Epidemiology.
Theodore Papakonstantinou and Adriani Nikolakopoulou are postdoctoral researchers.
Virginia Chiocchia is a PhD student in Biostatistics.
They all work at the Institute of Social and Preventive Medicine at the University of Bern.