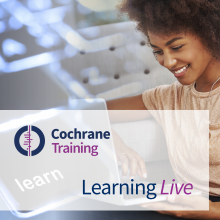 These videos, originally part of the NMA Learning Live Webinar series, discuss the GRADE approach and show examples from reviews. The current recommendations for SoF tables are also presented.
The videos are intended for people who are interested in undertaking a systematic review that includes a network meta-analysis, or who are actively developing a protocol for a review or working on a review that intends to conduct this analysis type. In addition to review author teams, CRG editors and methodologists will also be able to learn about rating the certainty of the evidence using GRADE and constructing a SoF table using a suitable format.
The webinar was delivered in February 2020 and below you will find the videos from the webinar, together with accompanying slides to download [PDF].
Part 1: Rating the certainty of evidence using the GRADE approach 
Part 2: Presenting NMA findings in Summary of findings tables 
Part 3: Interpretation of NMA findings 
---
Presenter Bios
Holger Schünemann is professor in the Departments of Health Research Methods, Evidence, and Impact and of Medicine at McMaster University, widely considered the birthplace of evidence-based health care, where he was department chair from 2009 to 2019. He graduated from the Medical School of Hannover (1993 & Dr. med. in 1994) and trained in lung biology, epidemiology, internal medicine and preventive medicine/public health at the University at Buffalo, State of New York (M.Sc. Epidemiology in 1997; Ph.D. Epidemiology & Community Medicine in 2000). He is co-chair of the GRADE working group (www.gradeworkinggroup.org) and director of Cochrane Canada and the McMaster GRADE center. Maintaining an active internal medicine practice fulfills his passion for patient care and ensures his research is people-oriented. He is an author of over 600 peer-reviewed publications (h-index 134/93 google scholar/web of science) and among the 1000 most cited scientists of all times (www.webometrics.info).
Dr. Romina Brignardello-Petersen is an Assistant Professor at the Department of Health Research Methods, Evidence, and Impact, at McMaster University. Her work focuses on the methods for the development of systematic reviews and clinical practice guidelines. She is an active member of the GRADE working group, where she leads the GRADE network meta-analysis (NMA) project group. She is the lead author of several articles on how to rate the certainty of the evidence from NMA using the GRADE approach.