These videos, originally part of the Cochrane Learning Live webinar series, are aimed at anyone who is interested in learning with Cochrane. Whether you are a systematic review author, an editor, a trainer, or a consumer – these videos have lots of interesting stuff to discover about Cochrane's new and upcoming learning opportunities!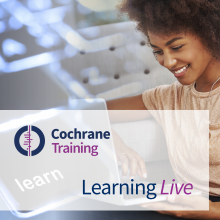 The session begins with a walk through of the new online resources and collections that have been created in recent months on the Cochrane Training website, and how you can use our resources to find the learning that you need, be that online or at face to face events.
We then present exciting new plans for Cochrane's learners in 2019, including a programme of support for Cochrane Trainers, a series of new online learning modules, and personalized learning profiles for our users.
The webinar was organized by Cochrane's Membership, Learning and Support Services in March 2019. Below you will find videos from the webinar, together with accompanying slides to download [PDF].
Part 1: The scope of learning in Cochrane
Part 2: Online learning with Cochrane
Part 3: Plans for the future
Presenter bios:
Chris Champion, Head of Membership, Learning and Support Services
Dario Sambunjak, Learning Content Officer, Membership, Learning and Support Services
Chris Watts, Learning Manager, Membership, Learning and Support Services
---
Part 1: The scope of learning in Cochrane
---
Part 2: Online learning with Cochrane
---
Part 3: Plans for the future 
---