These videos, originally part of the NMA Learning Live Webinar series, are from a 'how to' webinar session covering the development of a 'PICO' question, assumptions & how they im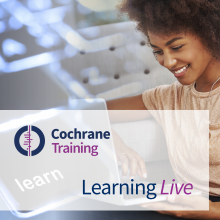 pact on analysis.
They are intended for people who are interested in undertaking a network meta-analysis, or who are actively developing a protocol for a review that intends to conduct this analysis type. In addition to review author teams, CRG editors and methodologists are also be able to learn about the importance of getting the question and methods right when planning an NMA.
The webinar was delivered in November 2019 and below you will find the videos from the webinar, together with accompanying slides to download [PDF].
Part 1: Introduction to NMA; rationale for NMA protocols
Part 2: NMA protocols: Rationale for the review, framing the research question, transitivity
Part 3: NMA protocols: Searching, selecting studies, extracting data; effect measures, statistical analysis, evaluating transitivity and coherence; reporting bias, confidence in evidence
Part 4: Conclusion, questions and answers
---
Presenter Bio
Anna Chaimani is a Senior Research Fellow at the Research Centre of Epidemiology and Statistics, Paris Descartes University. She is also a co-convenor of the Cochrane Statistical Methods Group and of the Cochrane Comparing Multiple Interventions Methods Group. She has worked on several topics in network meta-analysis such as small-study effects, software development, presentation and reporting of results, missing outcome data.