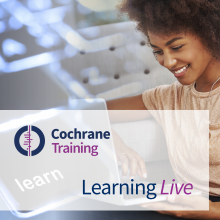 These videos, originally part of the RoB 2: Learning Live webinar series, explain how an overall RoB judgement is reached and how this can be incorporated in the analysis. Examples are used to illustrate some of the possibilities.
This session was intended for people who are interested in using RoB 2 to assess risk of bias in their review. In addition to review author teams, CRG editors can learn about reaching an overall RoB judgement so that they are able to assist authors with any queries they may have and also ensure information included in the review for this domain are relevant.
The webinar was delivered in November 2020 and below you will find the videos from the webinar, together with accompanying slides to download [PDF].
---
Presenter Bio
Jelena Savović is Senior Lecturer in Evidence Synthesis in the University of Bristol's Department of Population Health Sciences and Evidence Team Lead at the NIHR Applied Research Collaboration West. Jelena is an epidemiologist with expertise in evidence synthesis. She contributed to the development of several risk of bias tools, for randomised trials (RoB 2), non-randomised studies of interventions (ROBINS-I) and for systematic reviews (ROBIS). Her empirical work exploring the sources of bias in randomised trials informed the development of the Cochrane risk of bias tool and the revised RoB 2 tool.