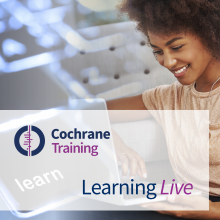 These videos, originally part of the RoB 2: Learning Live webinar series, discuss good practice in reporting of reviews using RoB 2. Common issues are addressed and exemplar reviews are presented. The presenters also demonstrate how RevMan Web is used to present the results of RoB 2 assessments and how the final product will look in the Cochrane Library.
This session was intended for people who are interested in undertaking a systematic review using RoB 2, or who are actively developing a protocol for a review or working on a review that intends to use RoB 2. In addition to review author teams, CRG editors and methodologists can learn about editorial considerations and good practice.
The webinar was delivered in January 2021 and below you will find the videos from the webinar, together with accompanying slides to download [PDF].
---
Presenter Bios
Kerry Dwan is Methods Support Unit Lead and Statistical Editor in the Cochrane Editorial and Methods Department. She also co-leads the RoB 2 pilot within Cochrane.
Rebecka Hall is Product Owner of RevMan. Rebecka's job is to act as the node where needs from authors and the Cochrane community, meet the technical experience and innovation of the Review Production Team. The goal is to build software that truly supports authors in the review writing process and correlates with Cochrane's strategy. This is achieved by evaluating value and effort for every feature, releasing frequently and bringing users into the development loop.
Tess Moore is based in Bristol Medical School within the National Institute of Health Research (NIHR) Applied Research Collaboration West (ARC West) in the Bristol Appraisal and Review of Research (BARR) group and works for Cochrane as Systematic Review Methodological Editor in the Methods Support Unit.