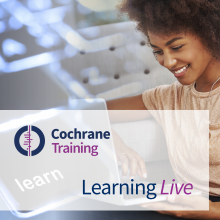 These videos, originally part of the Cochrane Learning Live webinar series, present the ROB-MEN framework and demonstrate the web application (available here) through an example. The audience was able to learn how to assess the risk of bias due to missing evidence (i.e. evidence missing due to unpublished studies and/or selective outcome reporting) in the network estimates using ROB-MEN.
The session consisted of a short introductory presentation followed by a live demonstration of the sofware with pauses for Q&A. It was aimed at people who have undertaken a systematic review that includes a network meta-analysis, or were interested in doing so.
The webinar was delivered in May 2022 and below you will find the videos from the webinar, together with accompanying slides to download [PDF].
---
Presenter Bio
Virginia Chiocchia, PhD candidate in Epidemiology & Biostatistics, Institute of Social and Preventive Medicine (ISPM), University of Bern. Virginia works in the Evidence Synthesis Methods group of ISPM in Bern, mostly involved in network meta-analysis. Her PhD focuses on methods for ranking competing treatments for network-meta analysis.