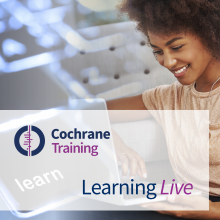 This Cochrane Learning Live webinar presented the updated GRADE guidance on when GRADE users should consider rating down more than one level for imprecision using a minimally contextualized approach. The presenter discussed imprecision ratings using real examples.
The session was aimed at systematic review authors, guideline panel members and anyone interested in GRADE methodology. It consisted of a presentation followed by a discussion around examples.
The webinar was delivered in September 2022 and below you will find the video from the webinar, together with accompanying slides to download [PDF].
---
Presenter Bio
Dr. Linan Zeng is a guideline methodologist working at McMaster University and West China Second University Hospital. Her academic activities focus on systematic reviews, meta-analysis, and clinical practice guideline methodology. She is a member of the GRADE working group.