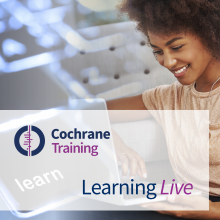 In this Cochrane Learning Live webinar, the presenters briefly discussed the GRADE approach and demonstrated how to use the GRADEpro software to perform a GRADE assessment and make a summary of findings table.
It was targeted at people who understand the analyses from systematic reviews and now want to present the findings from the evidence and its certainty.
The session started with a 10 minute overview of the GRADE approach and summary of findings table. For the next 50 minutes examples were used to demonstrate the GRADEpro software and its integration with RevMan Web. 
The session was delivered in November 2023 and below you will find the videos from the webinar, together with accompanying slides to download. You will also find a log of the questions and answers from the session. 
---
Presenter Bios
Nancy Santesso, MLIS, PhD, Associate Professor, Department of Health Research Methods, Evidence and Impact, McMaster University, Canada; Deputy Director, Cochrane Canada. Nancy has been a member of the Cochrane GRADEing Methods Group since 2007 and provides training to organisations for the use of the GRADE approach in systematic reviews and guideline development.
Md Bakhtiar Islam, Publishing and Technology Directorate, Cochrane Central Executive Team. Bakhtiar is a software test engineer, responsible for manual and automation testing for RevMan Web.