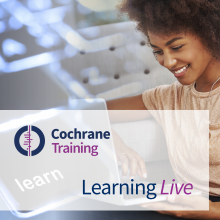 The purpose of this Cochrane Learning Live webinar was to provide up to date guidance for review authors wishing to learn more about developing their own protocol, as well as editors who want to learn more about recognising common errors at an earlier stage in the review process.
These videos outline the most common errors made in each section of Cochrane Review Protocols and how these errors can be avoided or addressed, to ensure that each section of the final protocol adheres to current MECIR Standards and Guidance.
The session was aimed at all systematic reviewers and editors with any experience and was delivered in September 2022. Below you will find the videos from the webinar, together with accompanying slides to download [PDF].
---
Presenter Bio
Nuala Livingstone is an Associate Editor in the Cochrane Evidence Production and Methods Directorate. Nuala graduated from Queen's University Belfast in 2006 with a BSc in Psychology, and again in 2010 with a PhD in Psychology. Nuala then worked as a Research Fellow at Queen's University Belfast for the next 5 years, focusing on authoring and editing Systematic Reviews. She joined the Cochrane Central Executive Team in April 2015. Her primary role in this job is to conduct pre-publication quality assurance screening of Cochrane systematic reviews, to ensure they are of sufficient methodological and quality.