Wikipedia is a powerful public knowledge-translation platform. Health-related Wikipedia articles receive approximately 10 million visits per day from around the world across 274 languages, and the English health articles alone received over 2.2 billion views in 2018. The Cochrane-Wikipedia partnership was developed in 2014. The goal of this partnership is to share Cochrane evidence on Wikipedia, using Cochrane Reviews to ensure health-related content within Wikipedia articles is accurate and unbiased.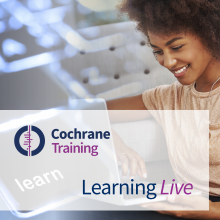 In these videos, originally part of the Cochrane Learning Live webinar series, members of the Cochrane Community are encouraged to use Cochrane evidence in order to improve the quality of the articles that people are accessing online. The videos include strategies to consider when sharing evidence on Wikipedia. Examples of projects include edit-a-thon events, incorporating Wikipedia editing into medical and dental teaching curriculums, and the use of technology to efficiently share Cochrane Evidence on Wikipedia. The Cochrane-Wikipedia Project home page is shared, including resources for getting started on Wikipedia and an update on the progress being made by Cochrane Review Groups.
The webinar was delivered in July 2019. Below you will find videos from the webinar, together with accompanying slides to download [PDF].
Part 1: An overview of editing Wikipedia for Cochrane and current Wikipedia projects
Part 2: Cochrane France and Wikipedia: Using English Wikipedia to develop the French language Wikipedia
Part 3: Updating Wikipedia for Cochrane: reflections from a volunteer's perspective
---
Presenter bios:
Jennifer Dawson has a PhD in molecular medicine, a MSc in pharmacology and toxicology, and has a strong background in knowledge translation and clinical research. Jennifer has been working with Cochrane on their Wikipedia partnership for the past three years, collaborating with members of the Cochrane community and developing strategies to improve the quality of the health-related articles that people are reading on Wikipedia with Cochrane evidence.  
Sylvain Juchet is a French pharmacist from the University of Toulouse, France. Before working for Cochrane, Sylvain worked as a clinical trial project manager on infectious diseases (Ebola, HIV, Tuberculosis) in Guinea and Ivory Coast. He now works in a clinical epidemiological center, and is involved in a project focussed on the burden of research and in Cochrane France, where he launched the french version of the Cochrane-Wikipedia initiative. 
Sadie Miller is a university of Ottawa co-op student in the anthropology program on a placement in the center for practice-changing research as a project clerk assistant and a member of the Cochrane Musculoskeletal group.
Humaira Muhfuz is an undergraduate student at the University of Ottawa in the Biomedical Sciences program. Humaira is currently completing a summer internship at the Centre for Practice-Changing Research - Ottawa Hospital Research Institute with the Cochrane Musculoskeletal group.
---
Additional materials
Download the slides from the webinar [PDF] 
See the Cochrane Wikipedia Partnership Project Page for more information.