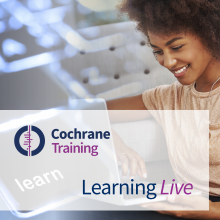 A current debate in health research is whether the focus on financial conflicts of interest overlooks "non-financial" interests that could put scientific judgment at equal or greater risk of bias. Many evidence synthesis and guideline development organisations have broadened the definition of relevant interests to include "non-financial" interests; the updated Cochrane COI policy includes provisions requiring disclosure of non-financial interests. Yet, difficulty lies in the fact that "non-financial interests" are vaguely and variably defined, may overlap considerably with financial interests, and their association with risk of bias lacks empirical evidence. Consequently, the implementation of a non-financial component within a COI policy can bring challenges. It is important that editorial teams have an opportunity to understand and discuss these challenges and are supported in the implementation process.
This webinar, originally part of the Cochrane Learning Live webinar series, provides an overview of policy developments related to "non-financial" interest and solicits and discusses participants' experiences related to the identification, evaluation, and communication of "non-financial" interests relevant to systematic reviews.
The webinar was delivered in July 2020 and was aimed at editors, review authors, peer reviewers and consumers. It includes presentations of recent empirical research and opportunities to share experiences with implementing conflict of interest policies. The webinar was presented by Quinn Grundy (see Presenters Bio below) and modarated by Ruth Foxlee from Cochrane's Editorial and Methods Department.
Below you will find the videos from the webinar, together with accompanying slides to download [PDF].
Part 1: What is a 'non-financial' conflict of interest and how to deal with it?
Part 2: Questions and answers
---
Presenter Bio
Dr. Quinn Grundy is an Assistant Professor with the Lawrence S. Bloomberg Faculty of Nursing at the University of Toronto. Dr. Grundy's research explores conflicts of interest within biomedical research, with a current focus on policy developments related to so-called "non-financial" interests. Dr Grundy was a project board member on the COI Policy revision (2018-19).