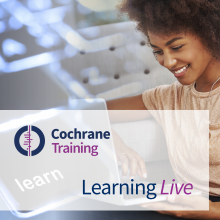 These videos, originally part of the Cochrane Learning Live webinar series, focus on the topics and methods in the rapid review work being undertaken by Cochrane in response to the COVID-19 crisis.
The first part of the session covered what's happening in Cochrane in response to COVID-19 overall, as well as specifically about our Rapid Review activities; including:- 
Building the Question Bank
Prioritisation of topics
Working with author teams
Template development
How we have streamlined the internal editorial and production process
In the second part, Chantelle Garrity from the Cochrane Rapid Reviews Methods Group presented the methods being used and gave an overview of our Rapid Review methods guidance including the process behind their development. 
The webinar was delivered in April 2020 and below you will find the videos from the webinar, together with accompanying slides to download [PDF].
Part 1: Cochrane's response
Part 2: Cochrane Rapid Review (RR) Methods: A Look at Interim Recommendations  
---
Presenter Bios
Kayleigh Kew, Senior Editor for Methods, Cochrane Editorial and Methods Department (Central Executive Team). Kayleigh joined the CET this year and is coordinating the COVID Rapid Reviews programme with Rachel Marshall, Senior Editorial Officer. Before joining the CET, she worked in Clinical Guidelines at NICE, Health Technology Assessment at the BMJ, and as a systematic reviewer with Cochrane Airways.
Chantelle Garrity, Rapid Reviews Program, Knowledge Synthesis Group, Ottawa Hospital Research Institute (OHRI). Chantelle is a Co-Convenor with the Cochrane Rapid Reviews Methods Group, and for several years has been involved in conducting RRs, related methods research, and provided training on the conduct of RRs working closely with various healthcare decision-making organizations. She also works with Cochrane Response providing advisory support.
Karen Head, Knowledge Translation Project Manager (Central Executive Team)