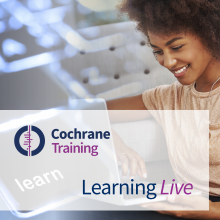 These videos, originally part of the Cochrane Learning Live webinar series, discuss challenges and strategies for making reviews with network meta-analysis (NMA) more accessible to those who need them to make health decisions.
The session was aimed at anyone planning or undertaking a systematic review with NMA, as well as people who want to share the results of this type of review with Cochrane's target audiences. It is of interest to anyone interested in making evidence more accessible, including review author teams, CRG editors, methodologists, clinicians, Geographic Groups and Fields. The focus of the session was on psychiatric disorders, but the methodology and the approach can be extended to any other field of medicine and psychology.
The webinar was delivered in May 2020 and below you will find the videos from the webinar, together with accompanying slides to download [PDF].
Part 1: How to disseminate reviews with NMA – examples from psychiatry  
Part 2: Disseminating NMA – podcasts, PLSs, blogs & blogshots  
---
Presenter Bios
Andrea Cipriani is Professor of Psychiatry and NIHR Research Professor at the Department of Psychiatry, University of Oxford, and Honorary Consultant Psychiatrist at Oxford Health NHS Foundation Trust. His main interest in psychiatry is evidence-based mental health and his research focuses on the evaluation of treatments in psychiatry, mainly major depression, bipolar disorder and schizophrenia. He has carried out many systematic reviews, meta-analyses and randomised controlled trials in psychopharmacology, however in the past few years he has also been investigating relevant issues in epidemiological psychiatry and public health, like patterns of drug consumption, risk of serious adverse events (most of all, suicide and deliberate self harm) and implementation of treatment guidelines. His interest in the methodology of evidence synthesis has now a specific focus on individual patient data network meta-analysis and data science, trying to assess the validity, breadth, structure and interpretation of innovative statistical and machine learning approaches to better inform the decision-making process between patients and clinicians and personalise treatment indications in routine clinical care. He has been working closely with world class academic institutions in the UK, Europe, US, Canada, Japan, China and Australia, and also with important organisations, such as the National Institute for Health and Clinical Excellence in the UK, the Istituto Superiore di Sanità in Italy, the United Nations in Vienna and the World Health Organization (WHO) in Geneva. Together with the Department of Mental Health and Substance Abuse at WHO, he has co-authored a manual on psychopharmacology, which provided evidence-based information to health care professionals in primary care especially in low- and middle-income countries. This manual is part of the Gap Action Programme of the WHO and is distributed by WHO as a reference source to assist physicians working in the primary health care through increasing their knowledge and improving their routine clinical practice in using evidence-based medicines for mental disorders. Prof Cipriani is currently the lead of the Digital/Informatics theme of the Oxford Health Biomedical Research Centre and the Editor in Chief of Evidence-Based Mental Health (https://ebmh.bmj.com/). Twitter: @And_Cipriani
Gill Norman is a research fellow at the University of Manchester and an editor, author and methodologist with Cochrane Wounds.