In these videos, originally part of the Cochrane Learning Live webinar series, we provide an overview of Cochrane's largely volunteer-driven translation activities in different languages, and look at two recent research projects: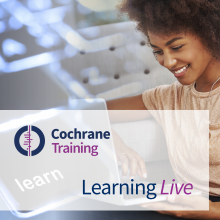 • A case study of the management and training of volunteer translators at Cochrane Germany conducted in July and August 2018 as part of an EU-funded research project. The presentation focusses on lessons learned and recommendations arising out of the case study.
• The results from a survey of Croatian volunteer translators to find out their characteristics, motivation, and feedback. Cochrane Croatia found that a lot of people sign up to participate as translators, but some never translate anything, and many stop after a while. So the aim of the survey was to improve the efficiency of the Croatian translation project and the volunteers' experience. The presentation focusses on how the results can be used to improve the engagement of volunteers.
The webinar was delivered in August 2019. Below you will find videos from the webinar, together with accompanying slides to download [PDF]. These videos are of interest to anyone who wants to know more about managing and training volunteers. Issues discussed include feedback, motivation, sustainability, and quality control in the context of volunteering activities. 
Part 1: Translation at Cochrane & the role of volunteers
Part 2: A case study from Cochrane
Part 3: Capacity building for knowledge translation: a survey about characteristics & motivation of volunteer translators of Cochrane plain language summaries
Part 4: Summary & what can we do better?
---
Presenter bios:
Juliane Ried is Cochrane's Translations Co-ordinator, collaborating with more than 15 volunteer teams worldwide who are translating Cochrane Reviews into their local languages, and representing and advocating for multi-language needs across Cochrane. She studied French and Spanish at Freiburg University, Germany.
Dr Patrick Cadwell is Assistant Professor of Translation Studies, Dublin City University. He lectures in specialised translation, terminology, and translation theory. His research interests centre on specialised communities of practice in translation and interpreting, especially in crisis settings.
Livia Puljak is a Full Professor at Catholic University of Croatia in Zagreb, Croatia. She lectures research methodology. Her research interests include evidence synthesis, research methodology and pain. From 2013 to 2019 she managed the Cochrane Croatia translation team. The study that will be presented during the webinar was authored by a team of researchers from Cochrane Croatia: Dalibora Behmen, Ana Marusic and Livia Puljak.