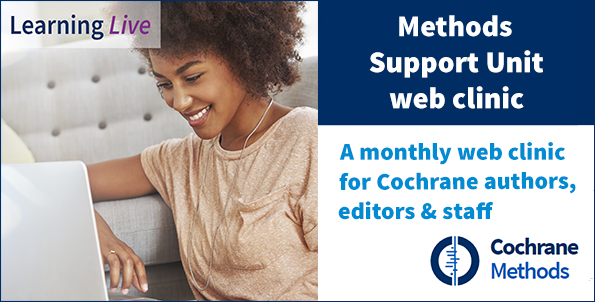 In February 2023, Rachel Richardson discussed both examples of good practice and examples of commonly encountered problems in the use of the Risk of Bias 2 tool.
Below you will find the videos from the webinar. Recordings from other Methods Support Unit web clinics are available here. 
---
Presenter Bios
Rachel Richardson, Methods Support Unit Manager, Cochrane - Rachel originally trained and worked as a general manager in the UK National Health Service, and has subsequently worked in health services research for many years. She has experience in various fields including knowledge translation, trial management and systematic reviewing. Her Cochrane experience includes working as an editor and author for the Common Mental Disorders and Wounds groups, and as Network Support Fellow for the Abdomen and Endocrine Network. She currently works as the Methods Support Unit Manager in Cochrane's Central Executive Team, advising on Cochrane methods. 
Emma Axon, Evidence Synthesis Methodology Editor, Methods Support Unit, Cochrane - Emma has a MSc in Epidemiology and Biostatistics and has been involved as an author on several Cochrane reviews assessing interventions to treat childhood obesity, which she completed during her PhD. Emma has also worked as a systematic review methodologist for Cochrane Skin, based at the University of Nottingham, conducting editorial assessments, and providing methods support to author teams. She also co-authored several Cochrane reviews as part of this role. Emma now works as an Evidence Synthesis Methodology Editor for the Cochrane Methods Support Unit. Her main research interests encompass general systematic review methods, such as implementing risk of bias and GRADE assessments.