For most up to date guidance on using this software, go to the RevMan Web Knowledge base.
RevMan Web is a new web-based software for preparing and maintaining Cochrane Reviews. In these videos, orginally part of the Cochrane Learning Live webinar series, you will learn about the advantages of using a web application, get a walk-through in the application and learn how to start using it to edit your review. Experiences from Cochrane community members using RevMan Web will be shared and you will also learn about future developments that will improve the review writing process.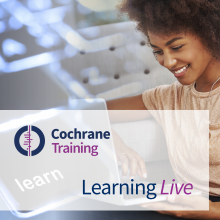 The best thing is, we have a team working hard to make RevMan Web work even better for you. You will be introduced to how you can send in suggestions and join discussions to specify new features so that you can easily impact the development of RevMan Web.
The webinar was delivered in May 2019. Below you will find videos from the webinar, together with useful links.
Part 1: Introduction to RevMan Web
Part 2: A walk-through RevMan Web
Part 3: RMW users sharing their experiences
Part 4: Questions and answers
---
Presenter bio:
Rebecka Hall, Product Owner of RevMan. Rebecka's job is to act as the node where needs from authors and the Cochrane community, meet the technical experience and innovation of the Review Production Team. The goal is to build software that truly supports authors in the review writing process and correlates with Cochrane's strategy. We achieve this by evaluating value and effort for every feature, releasing frequently and bringing our users into the development loop.