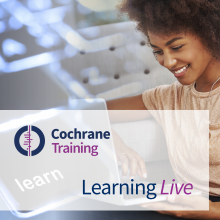 For most up to date guidance on using this software, go to the RevMan Web Knowledge base.
These videos are for Managing Editors, Assistant Managing Editors, Editorial Assistants, Information Specialists, Copy-Editors and other members of editorial base staff, and are an essential guide to working with reviews that are available in RevMan Web.
RevMan Web is the browser-based version of RevMan. There are more than 400 reviews available in RevMan Web, and every review group has at least one review available on the online platform. These videos provide essential advice on using the software - both as an editing tool and in conjunction with Archie. Whether you use RevMan Web for your day-to-day editorial work, or are a beginner, these videos will guide you through how to manage the editorial process when a review is available in RevMan Web.
They will enable you to:-
View the latest version of a review in RevMan Web
Find out which of your group's reviews are available in RevMan Web
Understand the similarities and differences between reviews in RevMan Web and RevMan 5
Edit and amend a review in RevMan Web
Find and use the guidance and support available for RevMan Web users
Answer basic author queries
The webinar was delivered in November 2019 by Anupa Shah (ME Support, Managing Editor of Cochrane Eyes and Vision), Ursula Gonthier (Membership & Support Manager, Cochrane People Services), Marlene Stewart (Managing Editor of Cochrane Vascular) and Rebecka Hall (RevMan Web Product Owner, Cochrane IT Services).
Below you will find videos from the webinar, together with accompanying slides to download [PDF].
Part 1: Introduction and accessing a review in RevMan Web
Part 2: Amending author details, track changes, find & replace, split tabs 
Part 3: Spell-check, notes, references, studies  
Part 4: Figures, appendices, footnotes   
Part 5: Reasons for choosing RevMan Web, support for users
Part 6: RevMan Web roadmap, Questions and answers